Referral Program
If you want to contribute with the contents' creators of this website, and you are on the market for a brand new Domain Name, please be sure to use the following referral link, you won't be only helping us but also saving money because there are always special offers and discounts available for new customers that are coming via referral links.
1&1 IONOS

The reason why
Truth be told, my first website was built a few years ago leaning on one of those widely available, Web Hosting & Domain packages, these combos are very common these days and even though they are quite convenient if you want to simplify things, they come very often with the following two disadvantages:
Hidden costs for additional features
Lack of control and flexibility
I discovered later that, in order to be able to get the best deals available on the market you'll have to use an "a la carte" method, and forget about all of those nicely marketed combos.
You'll save a lot of money if you choose your Domain separated from your Web Hosting.
Having to deal with different companies is the only drawback I've seen so far, but I think it's truly worth because at the same time you will be able to take advantage of the best options available.
When it comes to Domain Name registration, 1&1 IONOS includes the following three features for free.
Private Registration
Matching e-mail address
Wildcard SSL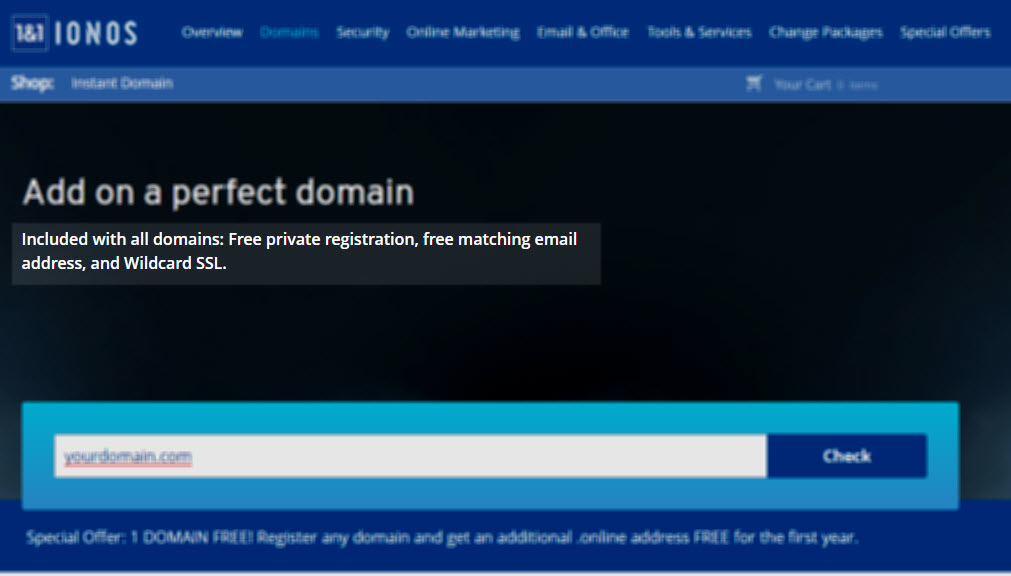 My experience taught me that, on the other hand, most of the "combo providers" will keep these options available for you as "add-ons" and you will have to pay a fee if you want to implement them on your website, well… at that point you won't have other option but accepting the higher cost, so, don't get caught.
I know that this doesn't surprised you, because that is these days the common approach followed by most providers, first they seduce you with a good combo to make you their customer, then, once you are in, you'll start to discover all the additional costs involved to do even a little change or adding a tiny service.
DIY – Do It Yourself
Saving money, of course is cool, but doing stuff all by yourself is priceless!
That's another lesson learned, every time you decide to purchase a combo or a package, you are letting another person to install, configure, tweak, and even take design decisions on your behalf, and that is… believe me, not always as good as it seems.
You will quite soon find yourself wanting to move PHP to the newest version, or taking advantage of an unbeatable offer brougth to you by another provider, that was exactly was happened to me, and the main reason why I decided to go with an "a la carte" method and the choice of being able to do things by my own.
Instant Domain
If you decide to buy the Domain Name for your website with 1&1 IONOS, make sure you select "Instant Domain", and double check that you are only buying the domain and not including the hosting, unless you want to buy both.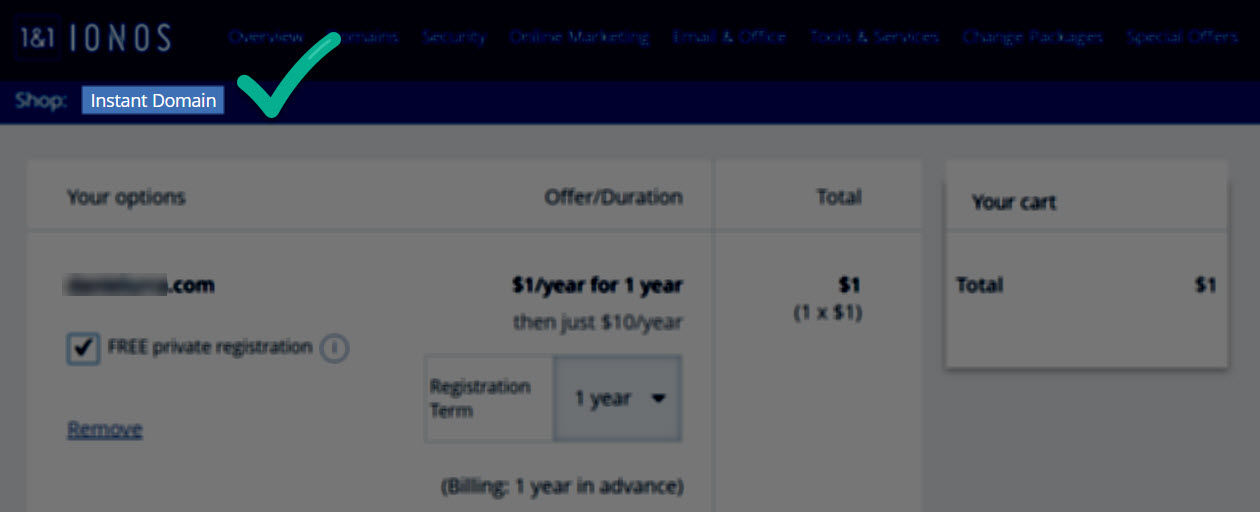 1 (one) dollar First Year
For the first year you will have to pay only 1(one) dollar, after that you'll have to pay the regular price of $10/year, the cheapest price you'll find in the market, absolutely unbeatable!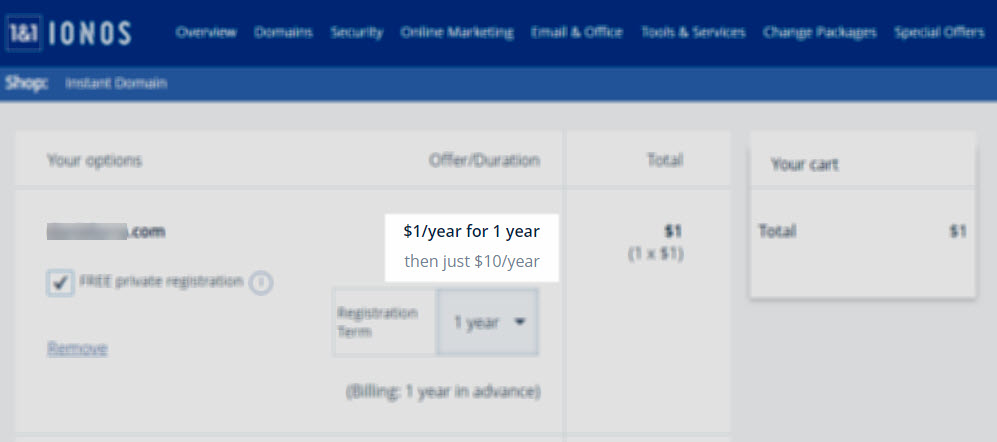 Private Registration
While reviewing the details of your purchase, you'll see that Private Registration is included for free, if you want to learn a little bit more about this service just clic the exclamation mark symbol to see a short but clear explanation, see screenshot below: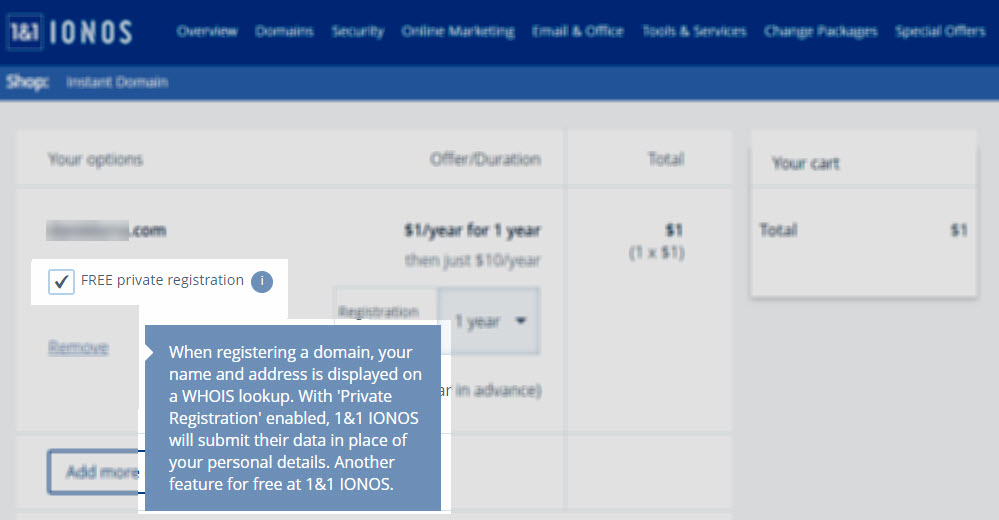 Where to go next?
If you think you are ready to buy your domain name with IONOS by 1&1 then take a look at the following article.